The Term Feng Shui is made up of the two Chinese characters, Feng (wind) and Shui (water). These theories have been used in China for more than 5000 years. Within these 5000 years Feng Shui has grown into a science of living and working.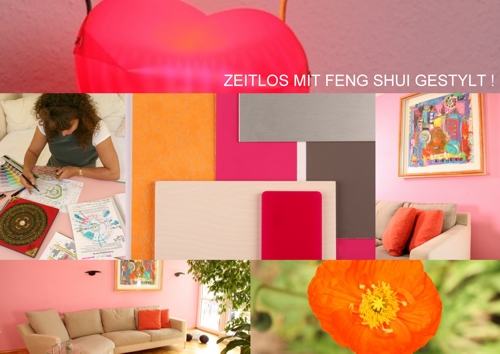 What can you expect from Feng Shui?
Feng Shui is a theory of energy and harmony, that's goal is to direct more Chi (energy) into a room and reduce the amount of disturbances. Through these changes your vitality will increase, while your efficiency remains the same or increases as well.

you feel harmonic, your stress level will be reduced, life will seem easier and you will become calmer and more relaxed

children are usually the first to react to the changes through Feng Shui. They are more easy-going and sleep better.

your feeling of prosperity will be stimulate and you will feel an increase abundance and fulfilment in many parts of your life

an office should be a place where you feel strong and where you can replenish your energy

sleeping areas should be quiet, relaxing places free from stress factors, where partners can find time, strength and muse for each other

Feng Shui will bring positive changes to your life!
1. In a personal appointment we will discuss:
What are your wishes?

Which colours do you like?

What would you like to change?

What are your problems, worries and fears; and those of your children?

Are there problems in school or your job? Are you suffering frequently from illness or accidents?

Are you fighting often? Are you having problems sleeping?

Do you not feel really comfortable in your home?

Do you have an active social life?

Would you like to have children?
2. Tell me your birthday!
With this information I can determine elements, directions in the heavens, strengthening colours, materials and forms, as well as your personal Gua number.
3. I need a plan of your house or flat

All measures necessary for Feng Shui are calculated precisely using your personal information and the information from your living space. With this information, I can begin to create a personal Feng Shui concept for you.
4. We will make an appointment and I will come to your house
With the Lo-Pan I will measure all four sides of your house and determine the exact orientation.

I will determine what colours are best suited to you.

I will take pictures for your personal Feng Shui folder, in order to document any measures being taken.

Earth-healing: If I notice any disturbances or phenomena that are effecting your living space, I will discuss possible measures that we can take to deal with this.
5. Creation of your personal Feng Shui Folder based on the guidelines from the Qi-Mag Institute.
After analysing all of the information I have collected from you, I will create a detailed Feng Shui folder for you. All measures that are necessary will be noted in this folder, in written form. A Feng Shui folder contains photos, plans, and drawings, with notes explaining all possibilities.
6. A second appointment in your home
After the completion of your Feng Shui concept, a second appointment will take place in your home. Here I will give you your Feng Shui folder and we can discuss all suggested measures in person. Depending on the size of your living space and the number of people present, the appointment can take between 3 and 7 hours. Create your own harmonic and vital home with your personal
Feng Shui Concept!
With your personal Feng Shui folder, you hold this concept in your hands. The choice is yours, which of the suggested measures you decide to seize. I am here to help you in word and deed, and I am looking forward to hearing from you. It is an exciting time, full of positive changes. An investment in Feng Shui consultation lasts much longer than any vacation. A year has 365 days, how many days vacation do you have?
Would you like a Feng Shui consultation?
Three simple ways to contact me: 1. Telephone: 06027/ 65 35  Office in Aschaffenburg (close to Frankfurt) or: 0221/ 35  00 624  Office in Cologne (close to Rheinauhafen) 2. Email: ViolaSchaefer-FengShui@t-online.de 3. Fax: 06027/ 990  201 I look forward to hearing from you Viola Schäfer Int. Feng Shui Meisterin
, GB Qi-Mag Feng Shui Consultant and Authorised Qi-Mag Teacher